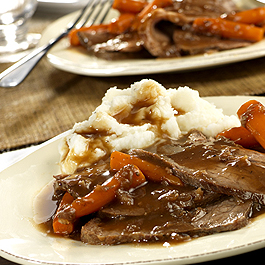 Courtesy of Campbell'sŪ Kitchen
Servings: 8
Prep Time: 5 Min.
Cook Time: 2 Hrs. 45 Min.
* 1 Tbsp. vegetable oil
* 3 lb. boneless beef chuck pot roast or beef bottom round roast
* 2 cans (10-1/2 oz. ea.) Campbell'sŪ Brown Gravy with Onions
* 2 Tbsp. barbecue sauce
* 1 lb. whole baby carrots, green tops removed, cut into 2-in. pieces
1. Heat the oil in a 6-qt. saucepot over medium-high heat. Add the beef and cook until well browned on all sides. Pour off any fat.
2. Stir the gravy and barbecue sauce, if desired, in the saucepot and heat to a boil. Reduce the heat to low. Cover and cook for 1 1/2 hrs.
3. Add the carrots to the saucepot. Cover and cook for 1 hr. or until the beef is fork-tender. Serve the beef with the gravy.
Calories: 261;
Total Fat: 11g;
Saturated Fat: 3g;
Cholesterol: 88mg;
Total Carbs: 10g;
Fiber: 2g;
Protein: 29g;
Sodium: 502mg;