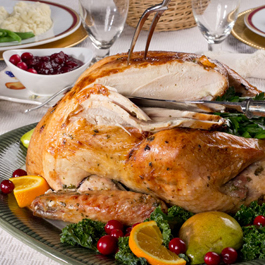 Courtesy of Mr. Food Test Kitchen
Servings: 12
Prep Time: n/a
Cook Time: 3 Hr.
* 1 (12- to 14-pound) turkey, thawed if frozen
* 3/4 c. (1-1/2 sticks) butter, softened
* 2 Tbsp. vegetable oil
* 2 Tbsp. lemon juice
* 1/4 c. chopped fresh parsley
* 4 clove garlic, minced
* 2 tsp. salt
* 1/2 tsp. black pepper
* 1 onion, cut into quarters
* 1 stalk celery, cut into 2-inch chunks
1. Preheat oven to 425°F. Remove giblets and neck from turkey. Rinse turkey with cold water, pat dry, and place in roasting pan.
2. In a medium bowl, combine butter, oil, lemon juice, parsley, garlic, salt, and pepper; mix well.
3. Loosen skin from turkey breast by placing your hand between breast and skin, being careful not to tear skin. Rub 1/4 of butter mixture underneath skin. Rub remaining mixture on outside of turkey. Place onion and celery in cavity. Tuck legs under skin or tie with string to secure.
4. Roast turkey 30 minutes, reduce heat to 325°F, and cook 1-1/2 hours. When turkey is golden, cover with foil and continue roasting about 1 hour, or until thermometer reaches 165° in thickest part of thigh, basting with herbed butter every 30 minutes.

Recipe and Image from the Mr. Food Test Kitchen
© 2018 Ginsburg Enterprises Incorporated. All rights reserved.