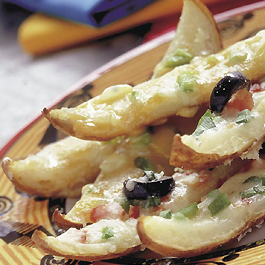 Courtesy of Washington State Potatoes
Servings: 6
Prep Time: 25 Min.
Cook Time: 65 Min.
* 4 Washington russet potatoes, about 8 to 10 oz. each
* 1/4 c. oil or olive oil
* 1 tsp. dried oregano leaves
* 1/2 tsp. garlic powder

Pizza Topping:
* 1 1/2 c. shredded mozzarella cheese
* 1/4 c. chopped green or red pepper
* 2 Tbsp. chopped green onions
* 2 Tbsp. sliced ripe olives
1. Preheat the oven to 400°F.
2. Scrub the potatoes with a vegetable brush in the sink under cold running water.
3. Poke each potato several times with a fork.
4. Put each potato on the rack in the oven. Set the timer for 50 min.
5. Using potholders, gently squeeze a potato to see if it's tender. If not, bake for another 10 min.
6. Using potholders, carefully take the potatoes out and set aside until cool enough for you to handle.
7. On a cutting board, with a big sharp knife (get help if needed) cut each potato in half the long way. Then cut each half into 3 even wedges. You will get 6 wedges from each potato.
8. Using a spoon, scoop out just the very center of the cooked white portion of the potato and save it to mash for tomorrow's dinner.
9. In a small bowl, stir together the oil, oregano and garlic powder.
10. Arrange the 24 skins in rows cut-side up, peel-side down on a baking sheet.
11. Using a paper towel, brush the tops of the wedges with the oil/oregano mixture.
12. Carefully put the baking sheet of wedges into the oven and set the timer for 10 min.
13. While the wedges are baking, make the pizza topping. In a medium bowl, stir together the cheese, green pepper, green onions and olives.
14. Using potholders, carefully take the baking sheet of wedges out of the oven and set on the top of the stove. Sprinkle the pizza topping over the wedges.
15. Using potholders, put the baking sheet back in the oven and set the timer for 5 min.
16. Using potholders, carefully take the baking sheet out of the oven. Then use a pancake turner to move the wedges to a serving plate. Enjoy.

This recipe starts with big russet potatoes. When you shop for these potatoes, weigh each one so they are all about the same weight. You will then bake the potatoes before cutting them (with help if you need it) into wedges. The potatoes take almost 1 hr. to bake and then another 10 min. in the oven once you have added the pizza topping, so get started about 1 1/2 hr. before you want to serve them for a party or for supper.

For more great potato recipes, please visit potatokids.com or potatoes.com.
Calories: 83;
Calories From Fat: 4;
Cholesterol: 5mg;
Total Carbs: 9g;
Fiber: 1g;
Protein: 3g;
Sodium: 44mg;