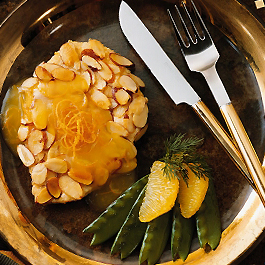 Courtesy of Wisconsin Milk Marketing Board
Servings: 4
Prep Time: 15 Min.
Cook Time: 15 Min.
* 2 boneless skinless chicken breasts, split (about 1 lb.)
* 2 Tbsp. flour
* 1/2 tsp. salt
* 1/2 tsp. pepper
* 1 egg, beaten
* 1 pkg. (2 1/4 oz.) sliced almonds
* 4 Tbsp. butter

Orange Sauce:
* 1 Tbsp. brown sugar
* 2 tsp. cornstarch
* juice from one fresh orange (1/2 c.)
* 2 Tbsp. butter
* 1 tsp. grated orange rind
1. Place each chicken fillet between two pieces of plastic wrap. Pound with meat mallet to 1/4 in. thickness. Coat chicken with flour. Sprinkle with salt and pepper. Dip one side into egg and press with almonds.
2. Melt butter in large skillet. Add chicken, almond side down. Cook on medium-high heat 3 to 5 min. or until almonds are toasted. Turn. Turn down heat to medium-low and cook 10 to 12 min. more or until chicken is no longer pink. Serve with Orange Sauce (makes 2/3 c.):

Orange Sauce:
Stovetop: Combine sugar and cornstarch in saucepan. Add juice, butter and rind. Cook on medium heat, stirring constantly, until thickened.

Microwave: Combine all ingredients in 2 cup glass measure. Microwave on high 2 min., stirring halfway through cooking.