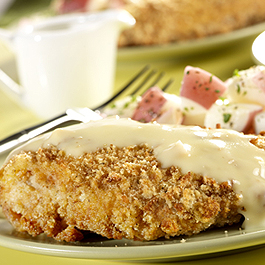 Courtesy of Campbell's® Kitchen
Servings: 4
Prep Time: 10 Min.
Cook Time: 25 Min.
* 2 Tbsp. flour
* 1-1/2 c. Pepperidge Farm® Herb Seasoned Stuffing, crushed
* 1 can (10-3/4 oz.) Campbell's® Condensed Cream of Chicken Soup (Regular or 98% Fat Free)
* 1/2 c. milk
* 1-1/4 lb. boneless skinless chicken breast halves
* 2 Tbsp. butter, melted
1. Heat the oven to 400°F. Place the flour onto a plate. Place the stuffing onto a plate. Stir 1/3 c. soup and 1/4 c. milk in a shallow dish.
2. Coat the chicken with the flour. Dip the chicken into the soup mixture. Coat the chicken with the stuffing. Place the chicken onto a baking sheet. Drizzle with the butter.
3. Bake for 20 min. or until the chicken is cooked through.
4. Heat the remaining soup and milk in a 1-qt. saucepan over medium heat until the mixture is hot and bubbling, stirring occasionally. Serve the soup mixture with the chicken.
Calories: 400;
Total Fat: 16g;
Saturated Fat: 7g;
Cholesterol: 107mg;
Total Carbs: 27g;
Fiber: 3g;
Protein: 36g;
Sodium: 962mg;